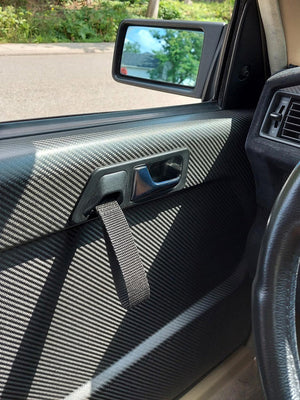 STEVS Automotive Performance Design Ltd.
W201 Carbon fiber interior door panels
Sale price Price $2,700.00 CAD Regular price
STEVS Design, together with Flieben CA, are proud to offer yet another high-quality carbon fiber product for the W201. These carbon fiber door cards are streamlined in design compared to the original panels, while still having the OEM aesthetic. When installed, they invoke a race inspired atmosphere to your W201. Manufactured using high grade materials, and the latest in composite technology, these panels are engineered to last.

We provide everything needed for installation, including custom designed window switch bezels (rear power windows only) and race inspired door pull straps. The panels finished in a matte, wear resistant coating, which not only looks great, but will hide scuffs and scratches better than a gloss coating. The installation is 100% reversible, without damaging the vehicle.
Technical details
100% carbon fiber
2x2 twill 3k visual grade first layer
Vacuum bag infused using high grade epoxy resin
Matte finish wear-resistant coating
Easy installation, no drilling, reversible
Custom designed window switch bezels (for rear power windows)
Custom engineered door pull-straps
Kit includes everything needed for installation
| | | | |
| --- | --- | --- | --- |
|  Weight values | Front Door | Rear Door | Full set |
| OEM panel weight (g) | 1760 | 1365 | 6250 |
| Carbon panel weight (g) | 690 | 590 | 2560 |
| Weight Savings (g) | 1070 | 775 | 3690 |
| Weight savings (kg) | 1.07 | 0.775 | 3.690 |
| Weight savings (lbs) | 2.36 | 1.71 | 8.13 |
What's included
Included with a purchase of a set of door panels:
4 carbon fiber door panels (2 front, 2 rear)
4 door pull straps
2 STEVS custom window switch bezels (for power rear windows)
4 12" strips of butyl tape
Door lock pin grommets
When you purchase your W201 carbon fiber door  set, you'll find a kit containing everything you need to install. The process is very straight forward and rewarding. No drilling or modification to original parts is required. It is completely reversible. 
Ordering
We'll manufacture the door panels specifically to your specification, so you don't need to make any modifications to install them. 
When you place an order, please email us with the following information:
Power windows or manual windows (front and rear)
Power seats or manual (applies to front only)
info@stevs.ca
More about the product
The focus of this collaboration was to create the best race-inspired door panel while preserving the original aesthetics of the Mercedes-Benz W201. Our panels are streamlined to be lighter, stronger and invoke a 'motorsport' atmosphere inside the car.
Construction and Quality
Like any product that's born at STEVS, these doors panels are made using the highest-grade materials. They're made entirely of carbon fiber and high-performance epoxy resin.
Aesthetic
The door panels are made using a symmetrical pattern direction (left side to the right side). When installed, the noticeable diagonal pattern starts at the bottom (towards the front of the car) and angles up (towards the rear of the car). This refines the overall aesthetic of the interior, and is one more thing that was taken into consideration during development.
Performance
The benefit of the lightweight carbon fiber construction for a product such as this, is that weight saved is at the outer perimeter of the vehicle, which as a result, has a larger effect of focusing the center of mass of the vehicle.
Longevity
If you have ever owned a classic car, you're probably familiar with parts eventually degrading. Failing adhesives, cracked leather, peeling vinyl, faded materials- it will inevitably happen, no matter how well you care for your car. Time is cruel adversary that all of us enthusiasts must contend with. Composites, specifically, when high grade materials are chosen, is a great material of choice to revitalize a vehicle. Not only are you replacing a worn part, you are upgrading to a material that will last longer, and weather the elements, better than the original.
Re-designed switch bezels
We're proud of this small addition. It's a small and simple part that we designed specifically for these door panels. The original switch bezels are bulky (and in most cases, not black) and are designed to grab onto the cardboard/vinyl construction of the original door panel-- which after a while begin to pop out as the cardboard starts to wear out and loose rigidity. Our new bezel simplifies all of this by using the spring mechanism on the actual switch to grab onto the carbon fiber door panel, while sandwiching the switch bezel into place. It's a very satisfying assembly, by first seating the switch into the bezel, and then pressing it into the door panel.
Installation:
Removing original panels
Remove original door panel
Remove door handle bolt to allow removal of black door handle assembly
Preparing and installing the carbon fiber panels
Prepare a table with a soft surface (blanket, towel etc)
Place carbon fiber door panel face down on table
Place 4 butyl strips, as shown in photo, each measuring 3" long. Ensure that the butyl sticks out by a few millimeters so it will be squeezed when installed. (keep white backing attached for now)
Install door lock pin ring bezel
Install rear door window switch bezels (if required)
Set door panel in place on door - inserting the 'lip' into the top window seal
Confirm left-to-right alignment by installing the door striker bezel (remove once confirmed)
Place the door latch assembly, connecting the rod for the door latch
Press in and slide the door handle assembly into place - some decent pressure may be needed. If required have someone apply opposing pressure from the outside of the door
Gently pull out on the bottom of the door panel, and remove the white backing of the butyl strips
Apply pressure on the panel, squeezing the butyl into the door
Attach the door striker bezel
Insert the door lock pin
Bolt in the door pull strap into the original door handle bolt thread
Attach plastic bezel back into door handle assembly
Pack away original panels for safe keeping
Our company philosophy is to give our customers a top-of-the-line carbon fiber experience. Our parts are made with the same vigor used to make some of the fastest and exotic super cars of our time. Every manufacturing step is carefully honed and developed to ensure a quality product. Sure, it sounds a little extreme to fixate on every little detail but that's what we're all about. As enthusiasts, this is about celebrating a piece of history, a moment in time where class, style and design were respected.