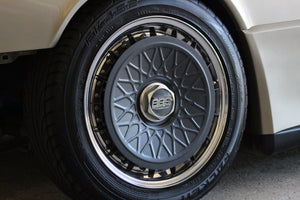 STEVS Automotive Performance Design Ltd.
Carbon fiber turbofan
Sale price Price $0.00 CAD Regular price
Taking inspiration from 1980's race cars, we set out on a journey to create our vision of a turbofan, entirely out of carbon fiber. This is the ultimate rendition of the classic turbofan. A sleek embossed 'mesh' pattern is moulded into the conical disc shape. Extra stiffness and strength comes from a 3D printed sandwich core construction which doubles as an interface for the precision CNC'd double-sided carbon fiber fins. The model shown is designed to fit the BBS RS098 3-piece wheel.
We can design and manufacture custom carbon fiber turbofans for any wheel, and in a variety of designs.
If you would like to inquiry about having a set of custom carbon fiber turbofans manufactured for your car, please contact us directly.
*Turbofans are sold in pairs only.
Features:
Made from high-performance carbon fiber
Infused with high quality epoxy resin
Customizeable designs and fitment
Extremely lightweight and stiff compared to other materials
Shipping details:
We ship our products worldwide. Learn more in Shipping & Returns.
More about STEVS: 
STEVS design is located in Vaughan, Ontario. We're a Canadian company that serves the Greater Toronto Area and the rest of the world. No matter where you are, you can enjoy our premium carbon fiber components, accessories, sheets and custom parts.

Why choose STEVS?
We're carbon fiber experts, and we pride ourselves in making premium carbon fiber products. STEVS is synonymous with meticulous attention to detail and integral workmanship. Making carbon fiber parts is an art — one that we respect and take very seriously. Every part is scrutinized to meet our high-quality standards.
Please contact us if you are interested in this product.