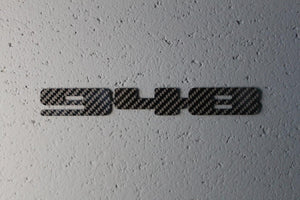 STEVS Automotive Performance Design Ltd.
Carbon fiber Porsche "948" badge
Sale price Price $100.00 CAD Regular price
Does this badge look familiar? If you guessed the Porsche 944 badge, you're right – well, kind of. This custom badge was designed for those very special 944's that have been swapped with a V8 engine, thus doubling the last number in the badge.
This Porsche badge was created to match the size and design-style of the original piece. It's manufactured with 1 mm thick carbon fiber and is ready to be installed with its 3M double-sided adhesive. Just peel and place!
Features:
2x2 3K carbon fiber twill
1 mm thick
High performance precision cut 3M adhesive
Same size as original badge
Installs in seconds
Gloss or satin finish
Want a custom carbon fiber badge?
We don't just make Porche badges, we make badges for all cars. Get your very own custom badge from scratch. Order 1 or 100. We'll work with you whether you're a tuner, someone who's customizing their car, a manufacturer, or even a business person pursuing a new venture. Let's get the ball rolling, contact us now!
Our process:
We layup our own carbon fiber stock and create badges in different thicknesses and finishes. We use our refined skills in CNC routing to precisely cut the carbon fiber with amazing edge quality. Every custom badge will be delivered ready to mount with high performance 3M double-sided tape.
Shipping Details:
We ship our products worldwide. Learn more in Shipping & Returns.
More about us: 
Our carbon fiber products are made in Canada — straight from our shop in Vaughan, Ontario. We service car enthusiasts all over the world. From keychains to bumpers to custom sheets and everything else in between, get a premium STEVS product that's backed by years of experience, attention to detail and superior craftsmanship. 
Why choose STEVS?
We're carbon fiber experts, and we pride ourselves in making premium carbon fiber products. STEVS is synonymous with meticulous attention to detail and integral workmanship. Making carbon fiber parts is an art — one that we respect and take very seriously. Every part is scrutinized to meet our high-quality standards.When you need the best, work with the best. We make everything in house in our Vaughan, Ontario shop.