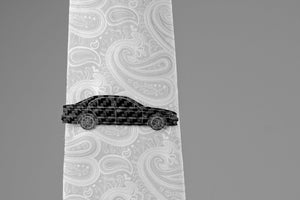 STEVS Automotive Performance Design Ltd.
M5 (E39) - Carbon fiber tie clip
Sale price Price $75.00 CAD Regular price
Keep your tie in place with this beautifully designed and crafted carbon fiber tie clip.
This tie clip is made completely out of real carbon fiber and is engineered and manufactured the very same way as carbon fiber super cars. The profile is precision CNC-machined, while the moulded clip will keep it firmly attached to your tie. The tie clip is offered in your choice of a gloss or satin finish.
Features:
Made from high-performance carbon fiber
Precision CNC-machined details
Beautiful surface finish – offered in satin and gloss
Designed to scale
Extremely light – ~2 grams 
Shipping details:
Order 2 or more tie clips and get FREE shipping!
We ship our products worldwide. Learn more in Shipping & Returns.
More about us:
STEVS design is located in Vaughan, Ontario. We're a Canadian company that serves the Greater Toronto Area and the rest of the world. No matter where you are, you can enjoy our premium carbon fiber components, accessories, sheets and custom parts. Our specialty is automotive parts and repairs but we will work with anyone from any industry. Contact us.
Why choose STEVS?
We're carbon fiber experts, and we pride ourselves in making premium carbon fiber products. In our most humble opinion, no one can do what we do. There's this innate passion that drives us. And above anything, we are motivated to make the best quality product. STEVS is synonymous with meticulous attention to detail and integral workmanship. Making carbon fiber parts is an art — one that we respect and take very seriously. Every part is scrutinized to meet our high-quality standards.
If you can't find the design you are looking for, please contact us. All designs in the FineLine collections can be purchased in either a keychain or tie clip.