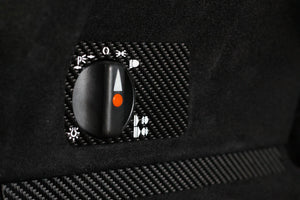 STEVS Automotive Performance Design Ltd.
Headlight switch - Carbon fiber trim
Sale price Price $35.00 CAD Regular price
What's included
A carbon fiber trim piece for the 'Headlight switch' of the Mercedes-Benz 190E. 
Vehicle fitment
190E/D (W201) - All models
*Please select whether you have a left-hand-drive or right-hand-drive model from the drop-down menu.
*If yours doesn't match the picture, please contact us directly.
Features
Visual grade 2x2 Twill 3K carbon fiber with epoxy resin
CNC machined
Precision cut 3M adhesive – strong bond
Satin or gloss finish
Matching pattern direction on all pieces
Low profile ~0.5mm installed thickness 
Restores cracked, faded and chipped wood trim pieces
More about this part
Our interior trim pieces are made completely out of carbon fiber and high-performance epoxy resin. They feature a visual grade outer weave and are manufactured using special methods which result in an excellent gloss or satin surface finish. Each piece meets our strict quality standards to ensure you get the best product. 
Installation
Installation time: 5 minutes. Do not rush, enjoy the process!
Remove original trim (optional)
Clean original trim piece with general-purpose cleaner
Test fit carbon fiber trim
Peel 3M backing off trim
Place carbon fiber trim, aligning it with original trim
Use a microfiber cloth to apply medium pressure onto trim to ensure good adhesion
Special installation notes:
Removal of this part for trim installation is not necessary but may make it easier.
Installation resources 
Installation photos and videos
Shipping Details:
This product is made to order. Manufacturing lead time is between 5-10 business days.
We ship our products worldwide. Learn more in Shipping & Returns.
This trim is shown in a satin finish.