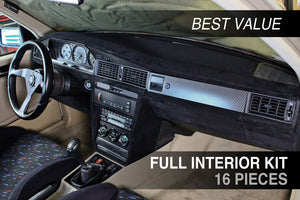 STEVS Automotive Performance Design Ltd.
190E (W201) - Full interior kit - Carbon fiber trim - 16 PIECES
Sale price Price $349.55 CAD Regular price
What's included?
A complete carbon fiber interior trim kit for the Mercedes-Benz 190e 2.3 16v —North American specification. This is the full kit, offering the best value per piece.
The installation of this carbon fiber trim kit will update the look of the interior of your car, while adding class and performance appeal. This is a great and inexpensive way to 'restore' the interior trim pieces that are chipped, cracked, faded and warped. Installation is quick and easy using pre-installed 3M adhesive. Detailed instructions are provided on the respective trim piece's product page.
Vehicle fitment:
190E 2.3-16v models (North American specification)
190E 2.3/2.6 models

— 

mid-production (North American specification)
Ordering notes:
Please select the options from the drop-down menus that suit your vehicle. If you don't see the option you need, please contact us directly.
Features:
Visual grade 2x2 Twill 3K carbon fiber with epoxy resin
CNC machined
Precision cut 3M adhesive

—

 strong bond
Satin or gloss finish
Matching pattern direction on all pieces
Low profile ~0.5mm installed thickness 
Restores cracked, faded and chipped wood trim pieces
More about this part:
Our interior trim pieces are made completely out of carbon fiber and high-performance epoxy resin. They feature a visual grade outer weave and are manufactured using special methods which result in an excellent gloss or satin surface finish. Each piece meets our strict quality standards to ensure you get the best product. 
Installation:
Installation time: 30 to 45 minutes. Do not rush, enjoy the process!
 Please follow the installation steps outlined on each trim product page.
Installation resources:
Installation photos and videos
Shipping details:
This product is made to order. Manufacturing lead time is between 5 to 10 business days.
We ship our products worldwide. Learn more in Shipping & Returns.
More about us: 
Our shop's located in Vaughan, Ontario. We work with clients in the Greater Toronto Area, across Canada and the rest of the world. Yes, our products cross borders because we want everyone to enjoy our premium carbon fiber components and accessories. 
Why choose STEVS?
In our most humble opinion, there's no one like us. We're carbon fiber experts, and we pride ourselves in making the best carbon fiber products. STEVS is synonymous with meticulous attention to detail and integral workmanship. Making carbon fiber parts is an art — one that we respect and take very seriously. Every part is scrutinized to meet our high-quality standards. We're a Canadian company and we make our products in-house. 
This trim is shown in a satin finish.