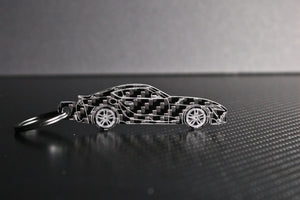 STEVS Automotive Performance Design Ltd.
Supra (MK5)
Sale price Price $75.00 CAD Regular price
This keychain is CNC machined from high-quality 2mm thick carbon fiber and is offered in your choice of a gloss or satin surface finish. It's made from double-sided carbon fiber, which features an attractive, smooth surface finish on both sides. For an additional charge, we'll personalize your keychain with a text engraving of your choice.
Features:
Made from high-performance carbon fiber
Precision CNC-machined details
Beautiful surface finish on both sides
Designed to scale
Satin black split ring with laser etched logo
Personalization:
If you've chosen to personalize your keychain with a custom engraving, please write the desired text in the "comments" section of the checkout page. Follow the link below for more information.
Shipping details:
Order 2 or more keychains and get FREE shipping!
We ship our products worldwide. Learn more in Shipping & Returns.
More about us: 
Our shop's located in Vaughan, Ontario. We work with clients in the Greater Toronto Area, across Canada and the rest of the world. Yes, our products cross borders because we want everyone to enjoy our premium carbon fiber components and accessories. 
Why choose STEVS?
We're carbon fiber experts, and we pride ourselves in making the best carbon fiber products. STEVS is synonymous with meticulous attention to detail and integral workmanship. Making carbon fiber parts is an art — one that we respect and take very seriously. Every part is scrutinized to meet our high-quality standards. We're a Canadian company and we make our products in-house.