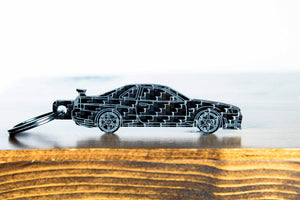 STEVS Automotive Performance Design Ltd.
Skyline GTR (R34)
Sale price Price $75.00 CAD Regular price
The last of the RB-26 powered Skylines. The R34 is one of the most recognizable Japanese sports cars. With a more aggressive front fascia than its R32 and R33 predecessors, the R34 maintains authority as a fan favorite. Fitted with the latest (at the time) in driver assist technology, the R34 GT-R was the ideal candidate for racing.
Now you can admire this automotive icon in the palm of your hand.
This keychain is CNC machined from high-quality 2mm thick carbon fiber and is offered in your choice of a gloss or satin surface finish. It's made from double-sided carbon fiber, which features an attractive, smooth surface finish on both sides. For an additional charge, we'll personalize your keychain with a text engraving of your choice.
Features:
Made from high-performance carbon fiber
Precision CNC-machined details
Beautiful surface finish on both sides
Designed to scale
Satin black split ring with laser etched logo
Personalization:
If you've chosen to personalize your keychain with a custom engraving, please write the desired text in the comments section of the checkout page. Follow the link below for more information.
Shipping Details:
Order 2 or more keychains and get FREE shipping!
We ship our products worldwide. Learn more in Shipping & Returns.
This item is shown with a gloss surface finish.