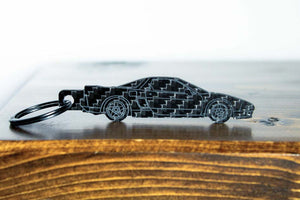 STEVS Automotive Performance Design Ltd.
NSX
Sale price Price $75.00 CAD Regular price
"Balance is the key to everything." If you want an automotive representation of that sentence, look no further than the NSX. Mid-engine, rear wheel drive, naturally aspirated V6 and an aluminum body stretched over a sleek frame that if it were to fit in your hand, you would mistakenly place it in the barrel of a rifle. The combination was derived from the racetrack, and that's where its at home.
Now you can admire this automotive icon in the palm of your hand.
This keychain is CNC machined from high-quality 2mm thick carbon fiber and is offered in your choice of a gloss or satin surface finish. It's made from double-sided carbon fiber, which features an attractive, smooth surface finish on both sides. For an additional charge, we'll personalize your keychain with a text engraving of your choice.
Features:
Made from high-performance carbon fiber
Precision CNC-machined details
Beautiful surface finish on both sides
Designed to scale
Satin black split ring with laser etched logo
Personalization:
If you've chosen to personalize your keychain with a custom engraving, please write the desired text in the comments section of the checkout page. Follow the link below for more information.
Shipping Details:
Order 2 or more keychains and get FREE shipping!
We ship our products worldwide. Learn more in Shipping & Returns.
This item is shown with a satin surface finish.