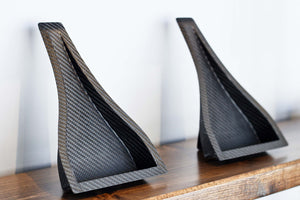 STEVS Automotive Performance Design Ltd.
Carbon fiber moulded components
Sale price Price $0.00 CAD Regular price
We have years of experience and knowledge in making superior-quality, custom-moulded carbon fiber components. Moulded composites are commonly used in the automotive racing and exotic industries in the form of chassis, body panels and aerodynamic accessories.
Here at STEVS, we offer full-service design and development of moulded composites — specializing in carbon fiber. We can take your project through the idea phase and the prototyping, tooling, production and final coating phases as well. Carbon fiber is our thing; we're experts with extensive knowledge of carbon fiber and related composites in both pre-impregnated autoclave manufacturing, and resin infusion manufacturing.
If you're interested in custom moulded carbon fiber components, or you're looking for a capable manufacture to handle your bespoke product line, please contact STEVS design today. We've got you covered! 
Services:
Concept design and prototyping
Composite layup schedule design
Tooling – from low production few-offs, to medium production capabilities (hundreds)
Component layups

Pre-preg with autoclave cure - outsourced curing
Resin infusion – In house

Hand trimming
CNC trimming – 2.5-Dimensional
We service clients all around the world:
STEVS Design is located in Woodbridge, Ontario which is 20 minutes north of Downtown Toronto. We work with individuals and companies all around the world, supplying high-quality carbon fiber components.
Why choose carbon fiber?
Carbon fiber is an excellent choice of material when manufacturing components that require extreme strength and rigidity without sacrificing weight. It's used in some of the most demanding applications on earth (and off) like motorsports, aviation and space exploration.
A single filament of carbon fiber is much stronger than aluminum and steel and is lighter too. When woven into a fabric and combined with an epoxy resin, the resulting composite is strong, stiff and lightweight.
The ability to customize the weave type and layup schedule of a component enables engineers to add extra strength and rigidity where it's needed most.
Why choose STEVS?
We're carbon fiber experts, and we pride ourselves in making the best carbon fiber products. STEVS is synonymous with meticulous attention to detail and integral workmanship. Making carbon fiber parts is an art — one that we respect and take very seriously. Every part is scrutinized to meet our high-quality standards.You need the best so work with the best, we've got your carbon fiber needs covered. 
Please contact us if you are interested in this product.