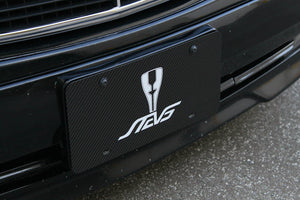 STEVS Automotive Performance Design Ltd.
Carbon fiber - License plate blank
Sale price Price $90.00 CAD Regular price
Our carbon fiber plate blank is made from high-quality carbon fiber and epoxy resin. This is the same combination used to make modern super cars! It's designed to match your car's original license plate dimensions so it's easy to install. This plate blank is great for track days, photo shoots, dealership displays and for provinces or states that don't need front license plates.
Features:
2x2 twill 3K carbon fiber
1 mm thick
CNC machined
Installs the same way as a regular license plate
Gloss or satin finish
Add a custom logo (optional)
Weight is 65 grams 
Bulk orders:
Bulk pricing available for dealers and companies - please contact us directly for more information.
Fitment:
Dimensions: 310 mm x 155 mm
This plate blank is designed for North American license plates. If your country uses a different size license plate, please contact us directly. We can work with you to create a carbon fiber license plate blank for your car.
Personalization:
Personalize your carbon fiber plate blank with a custom vinyl decal. This is a great way to advertise a company, show off your favorite brand or display something that's special to you.
If you've chosen to personalize your carbon fiber plate blank with a custom vinyl decal, please email us the your logo file — info@stevs.ca. Include your name and order number, which you'll get after you place your order, in the email.
File type:
Send us a high quality .jpeg or vector file. Simple logos that are clearly defined work best.
Shipping details:
FREE Canada & US shipping on orders over $65.00 CAD
We ship our products worldwide. Learn more in Shipping & Returns.
More about us:
STEVS design is located in Vaughan, Ontario. We're a Canadian company that serves the Greater Toronto Area and the rest of the world. No matter where you are, you can enjoy our premium carbon fiber components, accessories, sheets and custom parts.
Why choose STEVS?
We're carbon fiber experts, and we pride ourselves in making the best carbon fiber products. STEVS is synonymous with meticulous attention to detail and integral workmanship. Making carbon fiber parts is an art — one that we respect and take very seriously. Every part is scrutinized to meet our high-quality standards.
Gloss and satin finishes are shown in the photos.