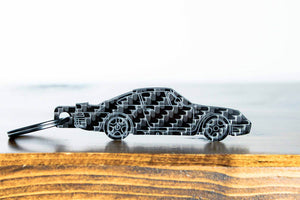 STEVS Automotive Performance Design Ltd.
959
Sale price Price $75.00 CAD Regular price
Unobtanium. If there was one word used to describe this beauty, it would be that. This is one rare car. The 959 was originally developed to race in Group B but due to its cancellation, the only off-road time was spent racing in Dakar. This was one of the fastest production cars of the 80's and one of the first high-performance cars to utilize an all-wheel drive system.
Now you can admire this automotive icon in the palm of your hand.
This keychain is CNC- machined from high-quality 2mm thick carbon fiber and is offered in your choice of a gloss or satin surface finish. It's made from double-sided carbon fiber, which features an attractive, smooth surface finish on both sides. For an additional charge, we'll personalize your keychain with a text engraving of your choice.
Features:
Made from high-performance carbon fiber
Precision CNC-machined details
Beautiful surface finish on both sides
Designed to scale
Satin black split ring with laser etched logo
Personalization:
If you've chosen to personalize your keychain with a custom engraving, please write the desired text in the "comments" section of the checkout page. Follow the link below for more information.
Shipping details:
Order 2 or more keychains and get FREE shipping!
We ship our products worldwide. Learn more in Shipping & Returns.
More about us:
STEVS design is located in Vaughan, Ontario. We ship to clients in the Greater Toronto Area, across Canada and all over the world. Get carbon fiber accessories, components, sheets, custom parts and more, no matter where you are. 
Why choose STEVS?
In our humble opinion, you've got to work with us. We're carbon fiber experts, and we pride ourselves in making the best carbon fiber products. STEVS is synonymous with meticulous attention to detail and integral workmanship. Making carbon fiber parts is an art — one that we respect and take very seriously. Every part is scrutinized to meet our high-quality standards. STEVS was started by a car-guy who eats, breaths and lives car culture. We'll never cut corners or compromise our standards. We make everything in-house right out of Vaughan, Ontario. 
This item is shown with a gloss surface finish.