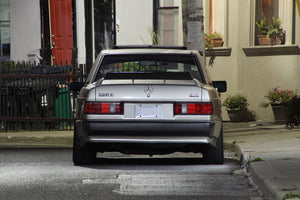 STEVS Automotive Performance Design Ltd.
Mercedes-Benz 190E carbon fiber wing extension (The Crown)
Sale price Price $550.00 CAD Regular price $750.00 CAD
This wing extension for the 190E was designed and manufactured to fit specifically to the '2.3-16v' style rear spoilers on the W201 chassis. We designed the 'Crown' to integrate seamlessly with 190E design language and gave it an aggressive 'rake', inspired by the DTM cars of the 1990's.
This component is manufactured using high performance carbon fiber infused with epoxy resin. The exterior surface features a stunning 2x2 3K twill weave. The Crown is protected with a UV resistant coating to prevent clouding, dis-colouration, and resin deterioration. For detailed installation instructions please download our detailed installation manual linked below.
STEVS Crown Installation Manual
Features:
Made from high-performance carbon fiber
Infused with high quality epoxy resin
High gloss exterior surface finish
Visual grade 2x2 3K twill exterior layer
No drilling required
Perfect fit to 2.3-16v style spoilers
UV resistant clear coat
Fits:
Mercedes-Benz 190E 2.3-16v
Any 190E with a 2.3-16v style spoiler
A comment from STEVS:
The Crown was STEVS first product venture-- an experiment with carbon fiber. Over the years, our processes have evolved and been refined in order to create the best carbon fiber parts in the world. With each process evolution, the price of this product has been adjusted to match, as we intend to have all of our products meet our high standards in quality and craftsmanship.
We are pleased to off this part at a 'discounted' price, because of our passion for the Mercedes 190E, and also as a thank you to the community for the inspiration, support and help throughout our journey.
Lead time:
This part has a manufacturing lead time of between 4-6 weeks. Updates and progress of build can be provided upon request. 
Shipping Details:
We ship our products worldwide. Learn more in Shipping & Returns.