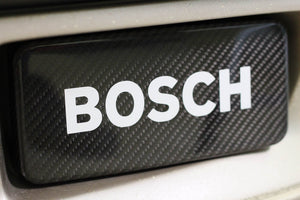 STEVS Automotive Performance Design Ltd.
Carbon fiber fog light covers - For AMG 'Version 2' bumper (W201 & W124)
Sale price Price $325.00 CAD Regular price
These carbon fiber fog light covers are custom designed by STEVS to fit the AMG-Mercedes-Benz 'Version 2' front bumpers, with fog lights. The cover protects the fog light lens and attaching brackets from stone chips and driving wear while adding a high-performance look to your car.
The cover is designed based on the original BOSCH fog lights that were original to the AMG W201 and W124 Version 2 front bumper. They're designed to compliment the fog light cavities of the bumper. They may also fit on other fog lights of similar dimensions.
Price is for a pair — 2 fog light covers.
Features:
2x2 twill 3K carbon fiber visual layer 
Full carbon fiber construction
UV protective coating
Gloss or satin finish options
Optional 'peel-away' matte protective coating
Add a custom logo (optional)
weight is 25 grams (single cover)
Fitment:
These carbon fiber fog light covers are designed to fit the 'Bosch Pilot 150' fog lights specifically for the AMG-Mercedes-Benz W201 and W124 version 2 front bumper, as shown in photos. 
Installation:
The covers are held on with 3M Dual Lock clear velcro (included).
Assemble two pieces of 3M Dual Lock velcro
Remove backing and stick to fog light lens (do this with two pieces)
Remove backing from other side of velcro
Fit carbon fiber cover and apply pressure, ensuring the 3M Dual Lock adheres to cover
To remove fog light cover, pull away at one side until 3M Dual Lock disengages 
Custom logo:
Personalize your carbon fiber fog light covers with custom vinyl decals. 
If you've chosen to personalize your carbon fiber fog light covers with a custom vinyl decal, please email us the your logo file — info@stevs.ca. Include your name and order number, which you'll get after you place your order, in the email.
File type:
Send us a high quality .jpeg or vector file. Simple logos that are clearly defined work best.
Manufacturing lead time:
This product requires 5 to 10 business days to manufacture.
Shipping details:
FREE Canada & US shipping on orders over $65.00 CAD
We ship our products worldwide. Learn more in Shipping & Returns.
More about us:
We design, make and process orders straight from our shop in Vaughan, Ontario. We're a Canadian company and we ship our premium carbon fiber products all over the world. From Toronto to Finland, to Brazil and Qatar and everywhere else in between, anyone can get their hands on a STEVS product.  
Why choose STEVS?
We're carbon fiber experts, and we pride ourselves in making the best carbon fiber products out there. STEVS is synonymous with meticulous attention to detail and integral workmanship. Making carbon fiber parts is an art — one that we respect and take very seriously. Every part is scrutinized to meet our high-quality standards.